May 13 (Monday)
Yuen-lin, with possibly the greatest hospitality of all hosts we had, left us the keys to the house as he immediately ventured north for a 11 day meditation retreat 2 hours north of the bay area after putting us home safely the night before. We woke up really early to diligently pack our belongings and found our way back to Berkeley downtown to catch a BART back to SFO, as we head towards our final detonation of the trip.
Honestly, Los Angeles wouldn't have been part of the tour if it wasn't for Disneyland. Plus, placing this destination last means our shopping has to be done here (to prevent paying extra for luggage for internal flights, now $50 a piece! crazy!) with a really high Californian sales tax of 7 to 9%. In hindsight, I'm happy we came anyways, even though my parents didn't have very much good impression when they visited a decade back.
Upon reaching LAX via Virgin Air, with all its weird Pink Purple Magenta lighted interior, we caught up with Sy Bor in the airport itself (macam business man…) before renting a car for the 3rd time. This time it was much cheaper than the previous 2 times as we will be returning it to the same place. It was necessary for us to carry out all the difficult shopping manoeuvres, plus we didn't have any contacts in town who could help.
Wanting to be close to LAX so that we can catch our final flight home, we made Culver City's Super 8 motel our headquarters for the week. Motels are such an integral part of the American travel experience, and to my delight I found dear very satisfied by its simple and practical setup. After wandering around the neighbourhood and having some really nice Mexican grilled food for dinner, we
stayed in for the evening to plan for the least planned part of the journey. After finally confirming against an day trip to San Diego (to visit the Zoo), we bought tickets that night to Disneyland.
* * *
May 14 (Tuesday)
We started our LA sight-seeing day knowing that they might be some disappointment due to our last minute planning. The first stop we climbed the hill up to Griffith Observatory, and true to our prediction we forgot to check its opening hours and had to make do with the glorious view of LA.
We headed straight to Hollywood next. It was the finals of American idol so large part of the street was blocked, but we got our fair share of tourist-ish things done, from reading the stars mosaics to taking pictures with the Hollywood sign from Kodak theatre, while avoiding all the mascots prowling tourist for tips.
Originally just wanting to pass by, we got lost wandering around Beverly Hills amidst the huge rich people's mansions. When we finally found our way out, we stopped by another Mexican corner shop for lunch and it tasted awesome probably from the hunger. We kept heading west until we reached Santa Monica, and grabbed our 2nd Jamba Juice before heading out to the beach.
Walking shoeless on the hot sand towards the beach, we wondered if there were nudity (neh, sorry to disappoint) but there certainly were lots of trash cans lined up along the beach, making its long and beautiful sandy beach a pleasant place to get scorched by the sun. It wasn't long before we retreated from the cloudless sky back into downtown Santa Monica, surveying camping gear prices in REI trying to figure out how much Yuen-lin invested in his gears.
We met Jung Kian at Soowon Galbi Korean BBQ restaurant for dinner at his recommendation, and for the first time in our trip we scheduled a meal with someone we didn't know before (ha!) Thanks to dear who's totally accepting of her husband's random hook up habits, even with young undergrads. It was refreshing and inspiring to hear current generation Malaysians rather going back to serve out their bond instead of taking advantage of the 1 year OPT (optional practical training) to work in the states – or perhaps Jung Kian is an outlier? We also caught up with Sze Min at Bourbon street cafe, but our conversation was unfortunately cut off prematurely when the shop closed fairly early.
We dropped Jung Kian back to USC, and kept thinking of tomorrow's destination at Anaheim on our way back.
* * *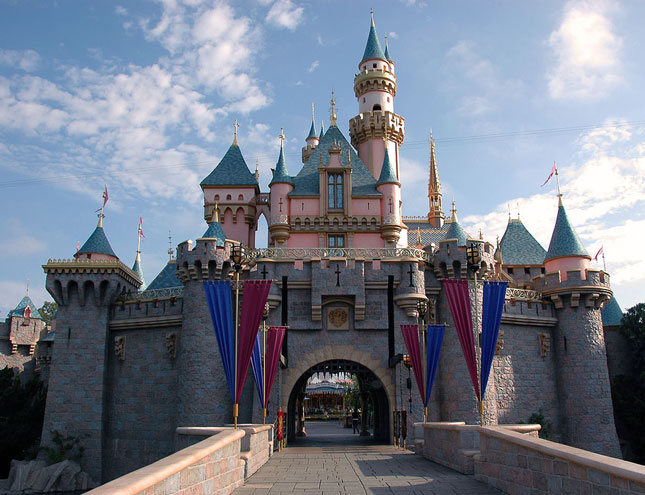 May 15 (Wednesday)
Visiting Disneyland was the other key promise to my wife for this trip (other than niagara falls). I guess it had been important enough for her to insist on it, but the nagging feeling has always been that one would like to bring children to come to Disneyland together! Alas, I gave in since I also went to Disneyland Florida when I was a freshman.
After a really long drive from Culver City to Anaheim, we parked in the Mickey themed car park and took a nice train-length road transport to the ticketing booth, where we realise we were following all the family people into the main park, while the youngsters seem to headed for the adventure park (to do both parks we would have to spend 2 days here).
Dear was excited by all the high energy rides, while I was singing kiddy tunes silly. As usual, one has to be on top of your game to be able to avoid queues and get to rides as fast as possible, but we did not figure out this FASTPASS thing until when the day was almost over. Thus half the time we were really just queueing, especially for the Space Mountain, where the queue was so so so long. Nevertheless, Space Mountain was totally worth it – we were seriously considering a 2nd ride in that pitch black monster.
Otherwise, Ironman displays were great, bumper cars were my favourite. Burritos for lunch was delicious. Small world was a bit of a let down, but the final ride around the entire park on its feeder train soothed the soul somewhat. We managed to cover most of the park in the end, especially catching the most important Main Street Parade while holding our Astro burger in hand. Dear got her candy floss and souvenirs while I got a nice presentation on Lincoln before we surrender to the setting sun.
Totally exhausted, I thought the happiest place on the earth can really just be anywhere that can drain you completely in one day.
* * *
May 16 (Thursday)
On our final full day in the North American continent, we started frantically acquiring all that could fit our luggages, and ticking off the huge shopping list by our friends and family. Medela breast pump, check. Kate Spade, check. And the list goes on. We started from the simple stores like Target, which dear found it super huge but I was like, well this is what the big boxes look like, and got Yunxin's pump. Then at Nordstrom, we found a nice jogging T for Chern.
Next we headed out to long beach. Yes it was really far, but The Horn Guys are either there or way up north in La Crescenta, and they are the only larger brass shop that I knew after sufficient research. It was really dear who pushed me to go take a look, since I've half heartedly said that I wanted a new trombone, but did not find any earlier in Dilon and Chuck Levin.
The only thing in my mind during this honeymoon was her, so to now start thinking about something else completely different caught me completely off guard. Yes it has been in the plans to get a new trombone for years now but why now now? That feeling completely changed after this one nice B natural that rang everywhere in my body, and suddenly I was confronted with a bone that's actually very similar to my current Bach 42B Stradivarius that I inherited from my teacher from just after high school till today.
I remembered having to tell the shop keeper that I'll be back, walked out of the shop and sat in Jack in the Box for a whole hour reading reviews and comparisons while dear waited patiently for me, consistently reminding me that she hope that I can invest in one now. Not being a professional who works day in and day out as a trombonist put some brakes into this investment (it's impossible to earn back that much money just from gigging), but then again, if i really can't afford it later, I can still sell it as long as I can take good care of it. Maybe even at a profit if it's aged properly?
Hoping to minimise buyer's regret, I went back and spent more time with the instrument before having a conversation with the shop keeper. Then we found out how we could actually avoid a full 10% of taxes since I was going to use my Singapore credit card, as he could record this as an export and shipped to Singapore (without him paying for the shipping and with me only paying for the bank exchange rates). That, and a load of free oils and spray sweetened the deal and I relented
The Getzen 4707DS is following me home, and it even comes in a fibreglass case that fits the airplane compartment.
Our last stop is to get dear's sister her Kate Spade bag. We traveled a few cities before arriving at The Americana at Brand in Glendale, a place so new and polished it looks like a super tourist trap, but with no choice (as the other Kate Spades did not carry the item she was looking for), we shopped on. The large Apple store was welcoming but none of the items were of value, so we left. Barnes and Nobles provided the free Wi-Fi we needed to have real time conversation with my sister in-law as we only found the same bag not the same design. It was a happy ending.
After an order and a reorder of Alondra Hot Wings (didn't know dear could eat so many wings!) in Alhambra, we crossed street to meet up with Sze Min again to continue our conversation, joined by another old friend Fang Ning who's conducting her own community orchestra in LA. We chatted for a very long time, knowing that it would be the last conversation that we will have in US for a long time to come.
* * *
May 17 (Friday)
Mechanically, we rose with all the task of the day laid before us. Breakfast, checkout, returned car, checkin, dropped luggage, checked and checked if our documents we right, and headed to the gate, where home calls.
I shed a tear, privately. I don't know what it was for.
In my foursquare checkin, I said, "Bye and thanks for all the fish". I don't know what it meant, and don't know what it means now. I wasn't a hitchhiker lost in the universe – I wanted to go home.
* * *
May 18 (Saturday)
We gained a day when we came, we lose a day on the return trip.
Totoro said hi to us in Narita, and we waived back.
The 2nd leg of the light arrived at Changi airport on 5pm that day. Even though we weren't sure if we're back where we came from, we felt secure of the fact that we are now safe, from the turbulence on the way there, from losing our way on the roads so many times, from the adventure of our lifetime, so far.
And I realised, when we are together, we are home, always.
* * *
End Notes
This diary was written as a present for my wife, and for our little to-be-borned daughter, who we conceived shortly after returning from the trip. Both of them gave me so much new purpose in life that I wouldn't have even known how to ask for.
We hoped for a such an epic trip once again, perhaps to conquer the entire South American continent, as a family. Maybe it would take us 5, 10, or 20 years, perhaps it would never be, but it would be the hope and planning that will make this happen, just like that 42 days of holiday.
Public diaries are also my way of saying – look, you can also find your own story to tell, you just have to tell it to somebody and not yourself. The more you tell, the more you learn how to tell your story your way, and eventually find meaning in telling these stories.
I've found mine, which is why this blog had survived for more than a decade, and will likely continue as long as I can afford the domain and the hosting and my precious time to write.
I've learned that sharing one's story, no matter how mundane you think it is, is more powerful than listening to all the stories in the world.
And in doing so, you will find who you love, what you love, how you love and, even if by just a faint scent, why you love.
Thank you for reading.